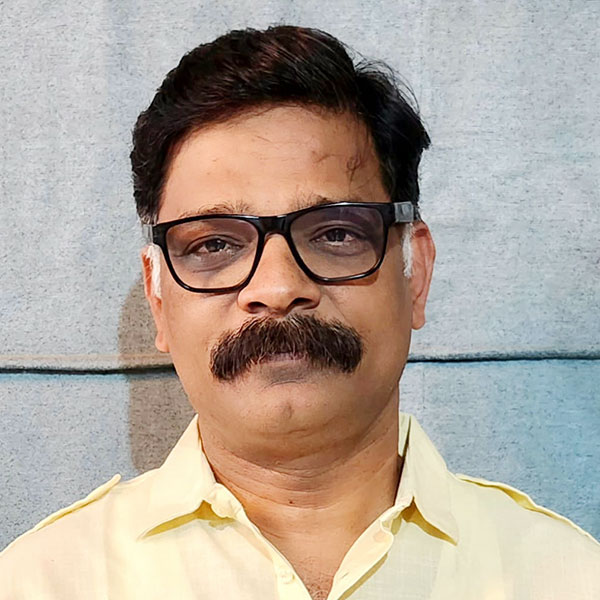 Manoj M. Sharma is an award-winning shrimp farmer and industry leader in India. He has more than 26 years of experience in the sustainable shrimp farming and played a major role in the "Blue Revolution" in Surat, Gujarat with the transformation of coastal (khar) wasteland into the productive shrimp producing land. His contribution here is 6000ha of shrimp farming, benefiting thousands of rural people and coastal fishermen. He also developed the concept of satellite shrimp farming which has brought manifold increases to shrimp production in Gujarat.
Among his awards are the Agrivision award 2020 for exceptional contributions to the field of shrimp farming. In 2018, he received the "Best BW Shrimp/Fish farmer- Coastal States" from NFDB (National Fisheries Development Board), Hyderabad, India's Small Giants" from India SME forum in 2014 and the "Leadership in Fisheries & Aquaculture" in 2014-15 from ICAR.
Manoj has a PhD in Fisheries Science (shrimp farming) from the Swami Ramanand Teerth University, Nanded, Maharashtra, India and Master of Fisheries Science in Fisheries Management from the Central Institute of Fisheries Education. His major areas of interest range from sustainable shrimp farming, recent technologies and interventions to probiotics and multispecies rearing.
| | |
| --- | --- |
| Session 6 | Panel on How to Maintain the Resurgence of the Black Tiger |
| Presentation | Challenges in Costs of Production and Marketing Black Tiger Shrimp in India |
Abstract
Indian shrimp farming has been witnessing the rise and fall in production over the past three decades, be it Penaeus monodon or Litopenaeus vannamei. Nevertheless, India stands high as one of the top shrimp producers in the world. It is very vital to understand the nature and its carrying capacity, which nowadays the entire industry as well as farmers are getting a clear view and are moving towards revival of the black tiger in India via introduction of specific pathogen free (SPF) P. monodon broodstock.
However, just bringing success in the black tiger production is not going to bring a concrete solution for the farmers or for the Indian shrimp industry. It is equally important to understand the supply and demand alongside its production. More importantly, it is to  understand the pros and cons of culture and choosing wisely the best species for culture.
This presentation will focus on understanding the world market for black tiger, its  supply and demand, the importance of indigenous domestication of SPF P. monodon broodstock via broodstock multiplication centres (BMC) which can bring down production cost and culturing the shrimp in areas where creek-based vannamei farming is failing or failure of vannamei farming due to other reasons. Ultimately, the resurgence of black tiger farming will be of no use if we fail to understand the market well. The new mantra for shrimp farming across the entire world including India should be "find stability over success".